The University of Texas at Austin :: iGEM Team
Interested in joining the UT Austin iGEM Team?
Participating in the iGEM competition is a unique opportunity for students to gain research and career skills. iGEM is best described as part synthetic biology research project, part robotics competition for biology, part entrepreneurial pitch contest, part bioethics course, and part engineering design project. Students are expected to explore their own project ideas, reflect on and explain how their proposed solution to a problem would benefit society, engage in outreach to stakeholders, and operate as a team to complete proof-of-principle research. After working on their research during the spring and summer, teams create a project website and give poster and oral presentations at a Jamboree in mid-fall with >350 teams from all over the world participating.
Applications for the 2020 team are due Dec. 1st, 2019.
Click here for more information and application instructions.
What is synthetic biology? What is iGEM?
| | |
| --- | --- |
| | "The International Genetically Engineered Machine competition (iGEM) is the premiere undergraduate Synthetic Biology competition. Student teams are given a kit of biological parts at the beginning of the summer from the Registry of Standard Biological Parts. Working at their own schools over the summer, they use these parts and new parts of their own design to build biological systems and operate them in living cells." –iGEM Foundation |
Past UT Austin iGEM Team Projects
UT Austin has a long history of successful participation in iGEM, including:
Implementing bacterial photography (the Coliroid)
Best Measurement Awards in 2019 and 2012.
Earning the top Gold Medal designation six times.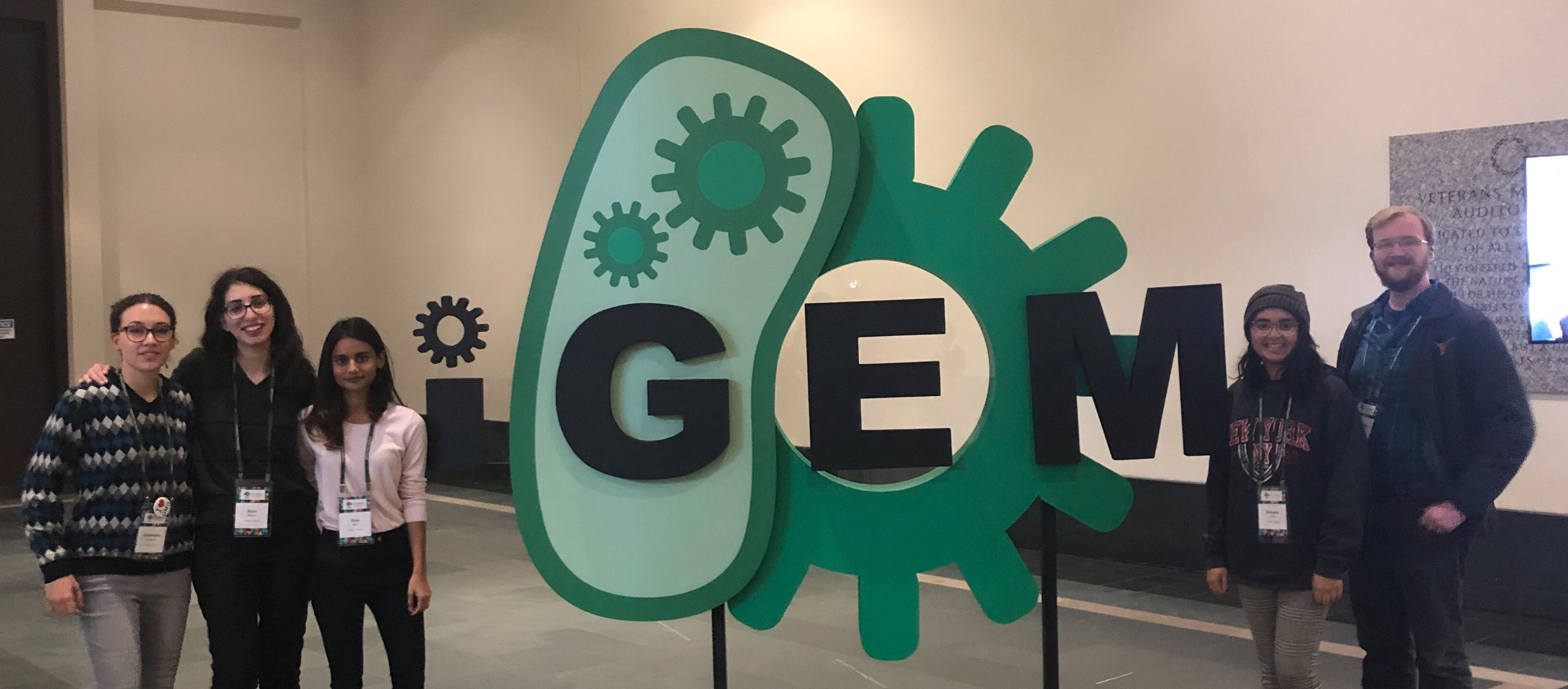 Members of the
2019 UT iGEM team
at the Giant Jamboree in Boston
Contributors to this topic

JeffreyBarrick, DennisMishler
Topic revision: r41 - 16 Nov 2019 - 14:00:35 - Main.JeffreyBarrick