Megaprimer whole plasmid cloning
aka MEGAWHOP cloning
aka Overlap Extension PCR cloning Adapted from Bryksin AV, Matsumura I. 2010. Overlap extension PCR Cloning: a simple and reliable way to create recombinant plasmids.
Biotechniques
.48(6):463-5.
Purpose
To insert a DNA sequence into a plasmid without restriction enzymes.
Experimental Steps
Create primers that amplify region of interest and hybridize with target plasmid
Perform a Phusion PCR with primers using the region of interest as template
Perform a second Phusion PCR using the products of the first PCR and the target plasmid as template
Digest Second PCR with Dpn1 to remove parental plasmid
Transform in E coli

Designing Primers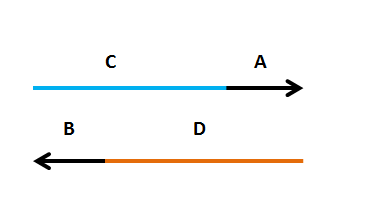 Primers need to have two components
a region that amplifies the insert (A(or B), 20-25nt)
a region that targets the new plasmid (C(or D), 30-40nt)
The target plasmid regions should preferably be 50-200nt apart (C to D). Order (A+C) primer and (B+D) primer.
PCR Insert
Use stardard 25ul Phusion (or other high fidelity polymerase) protocol
PCR 1(25ul reaction)
5 ul 5x Buffer
1.5 ul dntps
1.25 ul primer (A+C)
1.25 ul primer (B+D)
x ul template plasmid (<250ng)
ddH20 to 24.5 ul
then add 0.5 ul Phusion
Set elongation time according to size of insert. Purify PCR products. This can either be done through a gel extraction or by adding Dpn1 directly to the Phusion reaction mixture after PCR, digesting at 37°C for 1 hour, and then doing a standard PCR clean up. Dpn1 works efficiently in a Phusion reaction mixture.
PCR Recombinant Plasmid
Use modified 10ul Phusion (or other high fidelity polymerase) protocol
2 ul 5x Buffer
1 ul dntps
500 ng PCR insert product (Note, for optimal results, have a 250-fold molar excess of your megaprimer to your target plasmid).
~10 ng target plasmid
ddH20 to 9.5 ul
then add 0.5 ul Phusion
Adjust Elongation time for the length of the entire plasmid (90 seconds per kb).
Digest
Once the reaction is complete, digest the Recombinant Plasmid PCR product with 0.5 ul Dpn1 at 37°C for one and a half hours to remove parental DNA.
Transform
Heatshock 5ul of the Dpn1-digested MEGAWHOP reaction mixture into 25ul of chemically competent
E coli
.
Topic revision: r6 - 16 Jun 2014 - 18:33:00 - Main.JeffreyBarrick